Remaking the Economy: Reparations and Closing the Racial Wealth Gap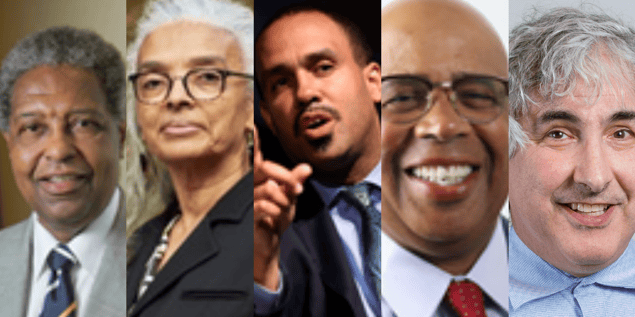 Remaking the Economy: Closing the Racial Wealth Gap and the Case for Reparations
Thursday, February 18th at 2:00 pm EST*
NPQ's latest webinar in our Remaking the Economy series looks at the racial wealth gap, focusing on Black Americans. In 2017, a report titled The Road to Zero Wealth noted that at current trends, by mid-century the median wealth of a Black family in the US would fall below zero (i.e., more than half of all Black Americans would be in a net debtor position).
As the movement against anti-Black racism has gained support, so too has the movement for reparations. Reparations would provide formal acknowledgement of the tremendous costs, economic and otherwise, of slavery, Jim Crow, redlining, and other racist policies. But how would the mechanics of reparations work and what does repair require?
Leading this discussion are our four expert panelists:
William A. ("Sandy") Darity and Kirsten Mullen are the husband-and-wife team that authored the award-winning book, From Here to Equality: Reparations for Black Americans in the Twenty-First Century, published by University of North Carolina Press in 2020.
Dedrick Asante-Muhammad is Chief of Race, Wealth, and Community for the National Community Reinvestment Coalition, an economic justice nonprofit advocacy group based in Washington, DC and was a coauthor of the 2017 Road to Zero Wealth study.
Gary Cunningham is CEO of Prosperity Now, a national nonprofit based in Washington, DC, whose focus is on building a fair and just economy that is free from structural inequity and racism.
This webinar will explore:
What are the factors that have made the racial wealth gap in the US so severe—and why is that gap growing over time, not narrowing?

What are common misperceptions about reparations and the racial wealth gap? How can these be addressed?

What have we learned from past reparation efforts, such as German restitution for Holocaust survivors or US restitution to Japanese Americans forcibly held in concentration camps during World War II?

What does justice require? What would a comprehensive plan for reparations look like?

Do state and local efforts at reparations boost the movement for national reparations or detract from it?

Would an ideal reparation approach involve individual compensation, group funds, or both?

How do you build popular support for reparations and address objections? What is the link between truth, reconciliation, and economic compensation?

What role can nonprofits and philanthropy play in supporting policy and conversation around reparations and closing the racial wealth gap?
Whether you're a nonprofit leader, board member, or engaged in community-based organizing, this webinar will provide you with real-life examples and lessons learned that can inform your work in your own community.
Register to learn how nonprofits and movement activists are advancing strategies to address the economic and social inequalities of our time!
The moderator for this webinar is NPQ Economic Justice Program Director Steve Dubb. Steve has worked with cooperatives and nonprofits for over two decades and has been both a student and practitioner in the field of community economic development. You can send your questions to editorinchief@npqmag.org to have them answered during the web event.
*The recording and slides of this webinar will be available on the NPQ website 2-3 days after the live event.