Talent: The Missing Piece in Nonprofit Sustainability
A nonprofit cannot achieve overall sustainability until it first achieves talent sustainability.
The most impactful and sustainable nonprofits understand that
organizational sustainability and talent sustainability are not either/or
propositions, but rather interdependent.
But how can you achieve true talent sustainability?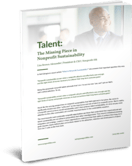 Download this whitepaper from Nonprofit HR and you'll learn:
How talent sustainability impacts overall sustainability

The four requirements for true talent sustainability

How you can make talent sustainability a reality at your nonprofit
Sustainability is about more than funding. Download the whitepaper now and learn how to attract and retain the right kinds of money and people necessary to advance your mission and achieve your long-term goals.