Remaking the Economy: Envisioning a Restorative Future of Work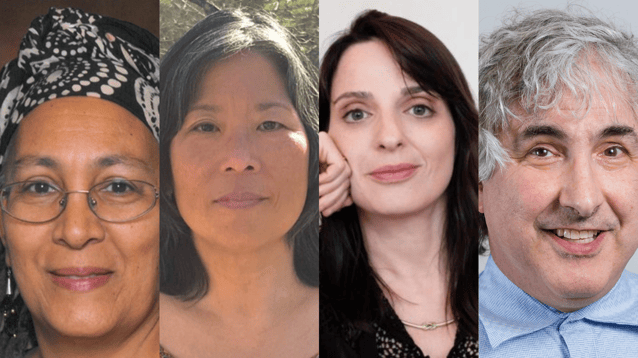 Remaking the Economy: Envisioning a Restorative Future of Work
Thursday, June 17th at 2:00 pm EDT*
For good reason, the world of work is rarely seen as a liberatory space, but can it become so? NPQ's latest webinar in our Remaking the Economy series looks at the workplace of today while exploring how our work lives might be transformed to support health and wellbeing, promote restorative justice, and provide not just "jobs" but livelihoods.
This webinar features three observers approaching this question from the standpoints of research; solidarity economy organizing; and on-the-ground reporting.
Leading this discussion are our three expert panelists:
Jessica Gordon Nembhard is a professor in the Department of Africana Studies at John Jay College of the City University of New York (CUNY), and is author of Collective Courage: A History of African American Cooperative Economic Thought and Practice.
Emily Kawano is a cofounder of the US Solidarity Economic Network; codirector of Wellspring Cooperative in Springfield, Massachusetts; and a member of NPQ's economic justice advisory committee.
Alissa Quart is executive director of the Economic Hardship Reporting Project, based in New York City, and is the author of six books, including Squeezed: Why Our Families Can't Afford America.
This webinar will explore:
How should one understand the scope of "work"? What are key elements that go missing in conventional definitions?



How is the nature of the workplace relationship between employer and employee changing? How has the rise of the gig economy altered the job market?
What lessons have we learned from the treatment of "essential workers" that we have witnessed during COVID-19?



What would work in a solidarity economy look like—and how would it differ from what is experienced in today's capitalist economy? How would a solidarity economy deal with contemporary challenges, such as automation?
What is meant by the phrase "livelihood" and how does that phrase differ from "work" as conventionally understood?
How do labor practices from the system of incarceration affect the broader world of work? How might worker co-ops be used to begin to disrupt those pattens?
What would a restorative future of work look like?
What can nonprofits and philanthropy do to support workers and help create the restorative future of work we desire?
Whether you're a nonprofit leader, board member, or engaged in community-based organizing, this webinar will provide you with real-life examples and lessons learned that can inform your work in your own community.
Register to learn how nonprofits and movement activists are advancing strategies to address the economic and social inequalities of our time!
The moderator for this webinar is NPQ Economic Justice Program Director Steve Dubb. Steve has worked with cooperatives and nonprofits for over two decades and has been both a student and practitioner in the field of community economic development. You can send your questions to editorinchief@npqmag.org to have them answered during the web event.
*The recording and slides of this webinar will be available on the NPQ website 2-3 days after the live event.