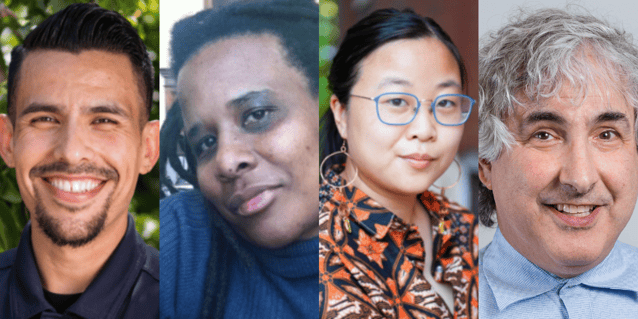 Remaking the Economy: Advocacy and Community, the Delicate Balance
Thursday, January 20th, at 2:00pm EST*
Building viable economic alternatives requires both project-based community economic development work and advocacy to access public resources and make changes to laws and regulations that get in the way. In this Remaking the Economy webinar, panelists will discuss how their organizations and the economic justice movements that they support strike a balance these two imperatives. Our panelists are:
Rudy Espinoza, Executive Director of Inclusive Action in the City, a Los Angeles-based community organization that advocates for street vendors, fights gentrification, and makes micro-loans for immigrant businesses.
Nia Evans, Executive Director of Boston Ujima Project, a nonprofit committed to building a community-controlled economy through building an ecosystem of grassroots community engaged investment and participatory governance.
Julia Ho is the Founder of Solidarity Economy St. Louis; co-founder of STL Mutual Aid, a network of over 2,500 neighbors; and a board member of the New Economy Coalition.
This webinar will explore:
How does a nonprofit advocate for policy change at the City Hall, while remaining responsive to its membership?

What kind of ecosystem of support is needed to advance economic justice goals? If you don't have that support, how do you build it?

What stages are involved in developing a mutual aid network? How do you sustain the work over the long haul?

What was required to legalize the status of street vendors in Los Angeles? What resistance did the campaign encounter? How was it overcome?

How was a $5-million, community-controlled loan fund developed in Boston? What were the key steps that made this dream a reality?

How do you balance project-based work and advocacy with larger visions of community building and economic transformation?
Register to learn how nonprofits and movement activists are advancing strategies to address the economic and social inequalities of our time!
Whether you're a social movement activist, nonprofit leader, board member, or engaged in community-based organizing, this webinar will provide you with real-life examples and lessons learned that can inform your work in your own community.
The moderator for this webinar is NPQ senior editor and economic justice program director Steve Dubb. Steve has worked with cooperatives and nonprofits for over two decades and has been both a student and practitioner in the field of community economic development.

You can send your questions to webinar@npqmag.org to have them answered during the web event.
*The recording and slides of this webinar will be available on the NPQ website 2-3 days after the live event.